Credit Scores
What's in my FICO Score-
The FICO Score is the standard credit score in the US, used in more than 90% of lending decisions.
How my FICO Score is calculated

The FICO® Score is calculated from several different pieces of credit data in your credit report. This data is grouped into five categories as outlined below. The percentages in the chart reflect how important each of the categories is in determining how your FICO Score is calculated.
Your FICO Score considers both positive and negative information in your credit report. Late payments will lower your FICO Score, but establishing or re-establishing a good track record of making payments on time will raise your score.
How a FICO Score breaks down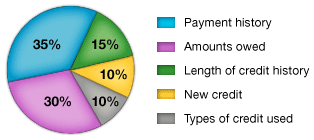 These percentages are based on the importance of the five categories for the general population. For particular groups—for example, people who have not been using credit long—the relative importance of these categories may be different.
General Questions & Fallacies
My score will drop if I apply for new credit.
Fact: If it does, it probably won't drop much. If you apply for several credit cards within a short period of time, multiple requests for your credit report information (called "inquiries") will appear on your report. Looking for new credit can equate with higher risk, but most credit scores are not affected by multiple inquiries from auto or mortgage lenders within a short period of time. Typically, these are treated as a single inquiry and will have little impact on the credit score.
A poor score will haunt me forever.
Fact: Just the opposite is true. A score is a "snapshot" of your risk at a particular point in time. It changes as new information is added to your bank and credit bureau files. Scores change gradually as you change the way you handle credit. For example, past credit problems impact your score less as time passes. Lenders request a current score when you submit a credit application, so they have the most recent information available. Therefore by taking the time to improve your score, you can qualify for more favorable interest rates
Why are my scores different for the 3 credit bureaus?

In the U.S., there are three national credit bureaus (Equifax, Experian and TransUnion) that compete to capture, update and store credit histories on most U.S. consumers. While most of the information collected on consumers by the three credit bureaus is similar, there are differences. For example, one credit bureau may have unique information captured on a consumer that is not being captured by the other two, or the same data element may be stored or displayed differently by the credit bureaus.
A predictive FICO scoring system resides at each of these credit bureaus from which lenders request a FICO® Score when evaluating a particular consumer's credit risk. The FICO scoring system design is similar across the credit bureaus so that consumers with high FICO Scores on bureau "A's" data will likely see a similarly high FICO Score at the other two bureaus and conversely consumers with lower scores at bureau "A" will likely get a low FICO Score at the other two bureaus when the underlying data is the same across the bureaus.
When the scores are significantly different across bureaus, it is likely the underlying data in the credit bureaus is different and thus driving that observed score difference. However, there can be score differences even when the underlying data is identical as each of the bureau's FICO scoring system was designed to optimize the predictive value of their unique data.
Keep in mind the following points when comparing scores across bureaus:
Not all credit scores are "FICO" scores. So, make sure the scores you are comparing are actual FICO Scores.

The scores should be accessed at the same time. The passage of time can result in score differences due to model characteristics that have a time based component. Comparing a score pulled on bureau "A" from last week to a score pulled on bureau "B" today can be problematic as the "week old score" may already be "dated".

All of your credit information may not be reported to all three credit bureaus. The information on your credit report is supplied by lenders, collection agencies and court records. Don't assume that each credit bureau has the same information pertaining to your credit history.

You may have applied for credit under different names (for example, Robert Jones versus Bob Jones) or a maiden name, which may cause fragmented or incomplete files at the credit reporting agencies. While, in most cases, the credit bureaus combine all files accurately under the same person, there are many instances where incomplete files or inaccurate data (social security numbers, addresses, etc.) cause one person's information to appear on someone else's credit report.

Lenders report credit information to the credit bureaus at different times, often resulting in one agency having more up-to-date information than another.

The credit bureaus may record, display or store the same information in different ways.
There is so much confusion since we went to the scoring system. Not to long ago it wasn't so. If you have any additional questions or concerns pertaining to your FICO scores plese feel to contact our team. After all this is the first step to purchasing a home. I can't recommend enough www.myfico.com it is full of useable information.